Did you know that this little bad boy right here *holds phone* can be the key to a woman's naughty imagination and that you can turn a girl on through text just by the push of a few buttons?

Whether you just met her or you've been texting her for a long time. When you can turn a woman on through text using the word-for-word examples that I'm about to give you, she will be fantasizing about you all night long:
LIKE and SUBSCRIBE for more free weekly content!
HOW TO TURN A GIRL ON THROUGH TEXT

The next time she sees a text from you, she's going to start getting all excited with anticipation. As dopamine starts flooding her brain. It's that powerful. So don't be like most guys that turn women off when they text and bore them out of their minds. Be the guy that knows how to unlock her deepest desires and fantasies. And I'm going to give you some of my dirtiest secrets from my bestselling book, Turn Her On Through Text, along with actual word-for-word text messages that will drive her wild with desire for you.
5 – WORD ASSOCIATION GAME
Number five is the word association game. This one works really well. In fact, when I first tried this when I was writing Turn Her On Through Text. (My book all about how to turn a girl on through text) It was about 12 Midnight or maybe 1:00 AM, and I was really in the zone trying out different things that are now in the book. So I sent the following text to a girl that I was dating and it worked a little bit too.

Well. She got so turned on that she begged me to come over right then and there. She actually got mad at me because I didn't let her come over – So a word of warning before you send any of the following texts, make sure you can actually see her right then and there or she might get a little upset at you!
It's really simple. It goes like this. You just start off by saying, "Hey, let's play a game." As long as she says, yes, then you say, "Let's play the word association game. I say a word. And then you say the first thing that comes to mind."
Girl: "Okay, go!"
Matt: "Ocean."
Girl: "Depth"
Matt: "Relaxed"
Girl: "Soothed."
Matt: "Bite."
Girl: "Down!"
Matt: "Spank."
Girl: "Harder! LOL."
Matt: "Dripping."
Girl: "Yes. You're turning me on – you win! My turn?"
Matt: "No, one more word – dominated."
Girl: "Pass! Haha!"
So just start with non-sexual words and then transition after about four or five back and forth with words that could be a sexual innuendo and you'll see how quickly the game turned sexual.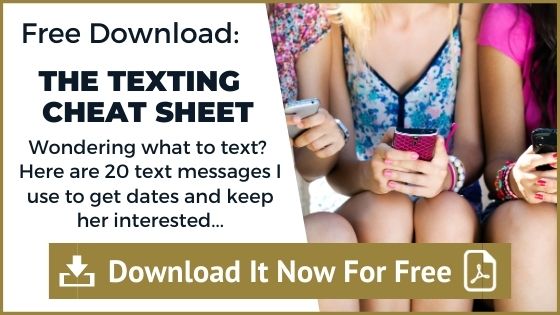 4 – MOVIE / BOOK QUOTES
Number four is movie or book quotes. This is great especially if you haven't actually slept with her yet, you're still kind of in the early stages of the relationship.
And you don't want to just say something sexual right out of the blue, because you're not quite sure how she's going to take it because with texting, there's no emotion. She might think you're just being flirty and cheeky, but she could take it as kind of creepy.
So you do need to be careful with your sexual or intimate texts in the beginning, but using a quote from something else is a safe, indirect way to just kind of test the waters. So here's the example:

Matt: "Hey, I need your opinion on something."
Girl: "Sure."
Matt: "My friend Kelly was reading this novel and was starting to get really turned on. So I grabbed the book from her grubby little paws, lol and saw what she read and began to get really mesmerized by this text."
— Before we keep going, I just want to point something out. Did you notice how I said "get really turned on" or "get mesmerized" by this text? That's a neuro-linguistic programming technique called embedded command that plants the idea into her subconscious mind. I show you exactly how to use those embedded command texts in my book, Turn Her On Through Text.

Matt: "It said – He lunges at me pushing me against the wall of the elevator before I knew it. He's got both of my hands in one of his, in a vice-like grip above my head. And he's pinning me to the wall using his hips. His other hand grabs my ponytail and yanks down, bringing my face up and his lips are on mine. I moan into his mouth, giving his tongue an opening. He takes full advantage. His tongue expertly exploring my mouth. I have never been kissed like this."
And if you want to see her reply and what I did next, you're going to have to get the book, Turn Her On Through Text! Now, notice how there was a lot of descriptive language in that book quote. For the next examples, you'll see I'm going to do the same.
CLICK HERE TO GET TURN HER ON THROUGH TEXT
3 – ROLE PLAY

Number three is using a role-play. These are great because role-plays are fantasy. They're not real. So you can get away with saying some pretty risque or outlandish things because it's no big deal. It's not real, but it still plants the idea in her mind.
Matt: "Hey, I'm bored. Let's fly to Vegas and elope."
Girl: "I was just thinking the same thing. lol"
Matt: "But where should we go on our honeymoon?"
Girl: "I have always wanted to go to the Bahammas!"
Matt: "Could you imagine us in a little beach Villa? Watching the sunset as I wrap you in my strong arms and look deep into your eyes, and.."
Matt: "…"
Matt: "Your turn."
Girl: "No, keep going."
Matt: "I scoop up in my arms. You feel a surge of energy, flood your body. As I spin you around leaving you slightly faint and dizzy, and then I lay you swiftly upon our fluffy bed. The sheets feel smooth against your skin. As if you were laying on puffy clouds in the sky."
There was a lot more to this, but you get the points. See how you need to start using descriptive language and imagery in your text if you want to turn her on?
When mastering how to turn a girl on through text, you have to know about descriptive language and the power of imagery through words.
That's the same reason that women are absolutely addicted to romance novels. In fact, romance novels are the number one selling book category. They're like crack to women. That's why they're called chick p*rn because they paint this fantasy, this romantic image in their mind, and they can't help feel like they're in that moment.
And of course, they're going to start getting aroused and turned on.
2 – DESCRIBE WHAT YOU'LL DO TO HER
Next is simply describe what you do to her. Here's an example:
Girl: "I have a BIG test today. I'm so stressed out."
Matt: "I wish I was there. If I were.."
— That's a nice little cliffhanger text. She has to respond to that.
Girl: "What?"
Matt: "You feel me come up behind you and pull you in close to me, my strong hands crawling up your back and slowly massaging your shoulders. You feel my breath on your neck. And it sends a shiver down your spine, little shocks of electricity. Fill your body. As I massage the tension out of your shoulders, imagine all the stress melting like ice thawing on a warm summer day. Your whole world just fades away. And all there is for you to think about are my strong hands gliding over your skin."
Girl: "Oh my God, Matt! That would be amazing!"
Matt: "Imagine you feeling my nails slightly scratching the back of your legs. Sending a shiver up through your body. Your skin is tingling and feels alive in a whole new way. You feel rejuvenated and ready to take on the world."
Trust me, it got even better after that. And anybody can do this. These are a little bit longer texts. They do take a little bit of time to craft them out, but I give you tons of examples on Turn Her On Through Text. You can literally just copy and paste them, or you can craft your own because I show you exactly how to craft your own. I'll give you lists of descriptive words that you can use at just the right moment to plant the right seed in her mind.
CLICK HERE TO GET TURN HER ON THROUGH TEXT
1 – NOT TEXTING, BUT DOING

THIS

INSTEAD..
Finally, this one is so simple but effective. So I digress a bit, ultimately its still connected to knowing how to turn a girl on through text.. and its..
It's not texting, but it's still with your phone. It's voice messages and voice notes.
Now the key when you're actually texting is what you say, the actual words on the screen, but when you're leaving voice note, what you actually say isn't so important because you're going to turn her on with your tonality, with your voice.
So you need to just slow things down, speak in a little bit, lower, more grounded baritone voice. I don't have the sexiest Marlon Brando or Morgan Freeman voice – My voice is a little bit more high pitched than that, but I can still turn a woman on just by speaking slowly, getting into a more seductive, lower tone.
Make sure you avoid filler words, "um" "like" "uh". Those are not attractive. And here's something that can make pretty much anybody's voice sound more seductive – is just get really close to the phone.
When you do this, you can say something kind of simple. Like "Hey, what's up, give me a call back when you get this, I'll be free for the next hour or so, call me." Or you can say something kind of cheeky like "Hey, what's up. You just popped into my mind. Are you using some kind of weird voodoo Ninja magic on me? You better stop doing that or you're going to get in trouble, young lady. Anyways, call me back."
Now, maybe that example isn't your personality. But the point is you can turn her on just by leaving some voice notes or leaving a voice message. So try these, because they flat out work.
Even if it seems she's a little out of your range. If you can send her some messages, whether it be text or voice like this, then trust me, she's going to be blowing up your phone. Let's face it, guys. Nowadays, you can't be too good when it comes to texting. We're awesome guys, and we adapt to the times.
And again, sometimes with just a push of a few buttons, you can have the power to turn on a girl. So go ahead – try these out, you'll eventually understand how to turn a girl on through text!
WANT US TO HELP AND COACH YOU? APPLY FOR OUR MENTORSHIP PROGRAMS HERE
https://media.theattractiveman.com/file/w_700,h_265,c_fit,q_80/11-2-H.jpg
265
700
Matt Artisan
https://media.theattractiveman.com/file/logo-light-e.png
Matt Artisan
2020-11-16 08:28:12
2020-12-29 07:11:53
How To Turn Her A Girl On Through Text (5 Texts That Turn Women On)