You'd definitely want to make a great first impression. They LAST. But how do you make a girl like you, when you feel so awkward interacting with her? Well, we've got a simple fix for that:
3 BEST Ways to Make A Great First Impression
How to Make a Girl Like You
In the first 7 seconds of meeting you, she's going to decide what kind of guy you are and put you in the potential lover category or not.
But this won't be your typically cookie-cutter first impression advice video about having good posture, good eye contact and trying to look cool that the wannabe dating coaches are spewing.
Because if you really want to make an attractive first impression, these aren't the most important things to get right.
To stand out, you need to do three unconventional things. If you start incorporating these into the first few moments you meet a woman, whether that's a date, at a party, or at a coffee shop, you will be 10x more attractive.
The first is:
1) It's okay to rock the boat.
You might think that the best first impression you could have is to be "likable" or "agreeable"… But in reality, being potentially seen as unlikeable is MUCH more powerful.
Let me explain:
I remember one time I was at a party, where this cute girl was holding court, talking about social issues to a bunch of guys. She was super-intelligent, and clearly knew her stuff, but as I walked over and joined the conversation, she said that throughout history men have held all the power over women. I didn't totally agree with that, so I said, I dunno, I think for most of history the majority of men and women were in the same boat, they had no power at all and were just trying to survive. Power was held by a few dudes with crowns at the top.
She said so you agree that men had all the power?
I didn't. So I said, just because all Alaskans are American doesn't make all Americans Alaskan. All Men didn't hold power, a very small group of them did, and they screwed over everyone else.
All the guys around her started chiming in arguments to shut me down, I even got called a sexist by one. But despite the fact that she was a feminist, she was interested in my perspective and respected me for speaking my mind. We ended up talking about a bunch of topics and when I left the party she stopped me and gave me her number.
The point wasn't whether I was right or she was wrong, it was that I had an opinion, and I didn't just agree with her because she was hot. Because I respectfully presented my own view, we connected on a deeper level and felt comfortable having a deeper conversation. She knew I was my own guy, not some guy agreeing with her so that I'd be more "likable" so she'd hopefully sleep with me.
This brings me to the second unconventional piece of advice…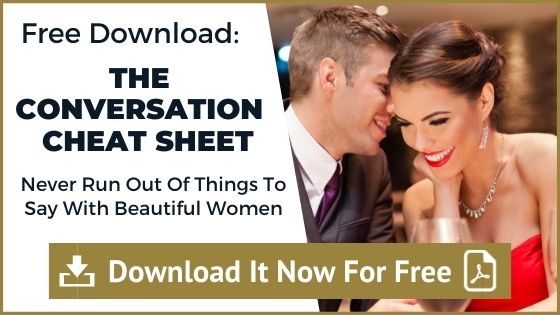 2) Awkwardness isn't your enemy. It's actually your friend.
A lot of guys are terrified of making an awkward first impression, but the reality of life is that sometimes you're just going to be awkward. Your mood might be off, you might feel nervous or you might just feel like a bit of a dork that day.
So you're gonna stumble your words, or blush, or speak in a quiet voice.
But here's the thing:
It's totally okay to be awkward, and embracing it is a HUGE attractive sign of confidence. You know what I do when I screw up a first impression with a girl?
I jokingly say:
"Wow, I totally forgot what I was going to say." Or "Man, that was awkward. I think I'm going to walk over and start over" Which almost always makes her laugh.
From there I carry on as normal, or role-play with her that we're meeting all over again for the first time:
"Okay let's start over. You're meeting me for the first time, annnnd it's love at first sight… Go."
This is flirty, sure. But that's NOT why it works. It works because it immediately shows her 3 things:
I'm comfortable making a mistake and owning it.
I'm comfortable making fun of myself.
I can handle an awkward situation.
All of this shows her I'm not hugely self-absorbed and hung up on appearing perfect. I'm just a normal guy.
I really want to emphasize how important this is, because no matter how painful you find awkwardness… It's 100% going to happen so you may as well embrace it.
I remember back in the day when I had a normal job I was sitting across from the office cutie. A new guy had just joined and was clearly feeling awkward around her. So instead of owning it, he tried to overcompensate for it and introduced himself as if he'd known her for years. He said "hey buddy" and kinda massaged her shoulders.
The girl immediately jolted, froze up, and said "please don't touch me" super loud.
It was at this moment he knew he fucked up.
I'm pretty sure I saw his soul leave his body.
To this day, it was the most awkward thing I've ever seen. This just goes to show, sometimes trying to avoid/prevent awkwardness makes it 10,000 times worse.
And last, number three:
WANT OUR COACHING? CLICK HERE TO APPLY FOR YOUR FREE BREAKTHROUGH CALL
3) You aren't there to be friends, so don't act like it.
First impression advice gets hung up on the details. Stand with a straight back and good posture, maintain good eye contact, and for the love of God wear some good, fitted clothes, or better yet, a tailored suit. Studies have shown time and time again that these details help you make a better first impression… So this is all GOOD advice.
But guess what, they help, and they might even help you land a job… But you're here to make a good impression with a beautiful woman, probably one you're on a date with or about to approach.
So here's the main area guys go wrong:
They hide the fact they're attracted to her. Which means they aren't seductive from the get-go.
And if you're hiding your interest and sexuality, then you may as well be hanging out as friends. Which I'm pretty sure isn't your intention.
There are a couple of reasons this sucks:
Firstly, it's unauthentic. If you don't want to be friends then hiding your sexuality is deceptive. You're lying to her by not being upfront with your behavior. Not only is this dumb, but it's fundamentally unattractive and may even creep her out.
Second, it's unattractive. You need to put in the work. If you're into her, don't hang out as friends, and then hours later try to go in for the kiss. Make her know you're into her so she feels that excitement and anticipation. Don't rob her of that because you are scared you'll "mess it up."
Third, it's dumb. If you're on a date, then presumably you want to hook up with her, at some point. Sure, you might not want to come off like a douchebag, and you might be looking for a girlfriend… But guess what, that future love of your life is going to want to feel sexy and desired around you. Pretending your friends isn't going to achieve that. Women want to be wanted, especially by the guy they're on a date with, so playfully let her know you're into her. Who knows, she might let you know just how into you she is too.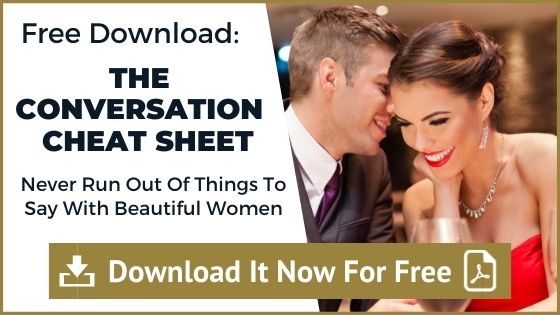 By letting her know you're into her from the get-go, you also achieve something important.
It's called transparency.
By letting her know you're attracted to her, and that you're going to flirt with her, maybe even try and kiss her. You essentially "warn her" what your intentions are.
This means if she isn't into you, or just wants to be friends, she's probably going to let you know. This might sound bad, but it's good for two reasons.
She won't get a sudden shock when this "friendly guy" suddenly tries to make out with her. And you won't be wasting your time hoping she likes you when she doesn't.
Transparency is honest and confident. It says here I am, I like you, take it or leave. Sometimes they won't, but often times they will. And you'll be all the better for it.
Now to wrap up, there's one single piece of connective tissue that runs through every piece of first impression advice I've given you today.
You know what that is?
They all require you to be vulnerable.
An attractive first impression is about accepting that you're imperfect and she might not agree with you, that you don't have to come across flawless, and that you're okay exposing yourself to rejection because she might not be into you.
All of this requires vulnerability.
But in return you'll be a shitload more confident, more attractive, and you'll make a much better first impression.
WANT OUR COACHING? CLICK HERE TO APPLY FOR YOUR FREE BREAKTHROUGH CALL
https://media.theattractiveman.com/file/w_700,h_265,c_fit,q_80/blog-images-4-8.jpg
265
700
Matt Artisan
https://media.theattractiveman.com/file/logo-light-e.png
Matt Artisan
2022-01-07 08:44:52
2022-01-10 11:37:14
3 BEST Ways to Make A Great First Impression (How to Make a Girl Like You)