What are the best pick up lines? There are many ways you can open a conversation with her…
But what can you say that makes you stand out from all the other guys?
What can you say that sparks attraction?
And what can you say that will never get you rejected?
Well, in this video I'll show you 3 openers that have been proven to get good reactions from women. I'll even explain the psychology as to why these are rejection-proof.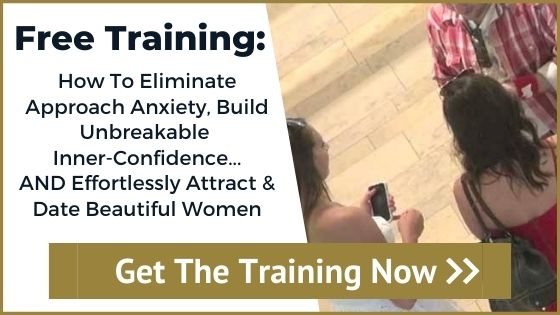 ---
The Best Pick Up Lines That Never Get Rejected
One time I walked up to a woman and said the worst pick up line you can think of: "Hey do you like squirrels? Because I'm going to nut in your hole!"
Yeah, it was pretty BAD. I did this only because it was a dare. But the woman responded with "I love squirrels," and I asked "Why didn't you slap me?" that's when she replied: "Because I could tell you are just having fun." Now, please don't use that line. But that was a huge "ah-ha!" moment for me.
If you have a fun energy, a positive vibe, and are feeling great about yourself just about anything can work.
Here's how to flirt with women using my 3 best pick up lines that never get rejected:
"Hi, you seem fun and friendly, so I thought I'd come over and say hi."
Simply say this if you're afraid of rejection on your first approach.
This may seem like nothing. But it uses a psychological principle called "Planting an identity." Basically, you're putting into her mind that you perceive her as being friendly. Thus she'll naturally be friendly towards you.
The chances that she will give you a bad reaction and act rude when you tell her she seems friendly is pretty slim. I mean it can happen, but why would you even want to keep talking to a girl like that anyway?
"I noticed that you and I are like the hottest people in here so I figured we should at least meet."
This works great in a bar or club. Because it's fun and playful, and it creates a "Us vs. them" frame where you and she are the coolest hottest people in the club. How could any girls say no to that scenario?
"I just saw you in the distance, and I thought you were absolutely stunning and wanted to at least say hi"
This works great during the daytime because women are busy and it cuts right to the chase. And it uses the Law of reciprocity. Because you are likely going to make her feel good with such a bold and genuine compliment. She will want to reciprocate by at least listening to what you have to say next.
All of these openers buy you a few seconds of time. What's really important is what comes after the opener.
That's why we created this Free Conversation Cheat Sheet where we break down exactly what to say after "Hi" to make her want you.
You get:
My top conversation starters for any situation…

Simple techniques to never run out of things to say…

A list of my favorite games to play that create a fun-flirty vibe

And simple ways to escalate the interaction.

And more!
Download it now because you'll want to keep this handy before you go out.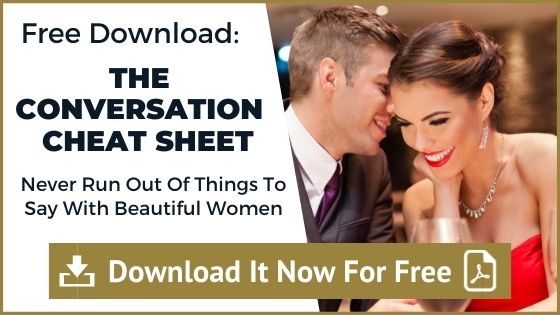 And if you want us to show you how to meet women personally, click here to check out the live Bootcamp Schedule.
I'm out! Cheers!
https://media.theattractiveman.com/file/w_845,h_321,c_fit,q_80/get-your-ex-back-14.png
321
845
Matt Artisan
https://media.theattractiveman.com/file/logo-light-e.png
Matt Artisan
2018-01-09 21:46:17
2019-11-14 16:23:28
Best Pick Up Lines That Never Get Rejected