Want to get dates without leaving your house?
Well then—the Tinder App is definitely your solution.
Tinder is a dating application that pairs individuals who find each other mutually attractive.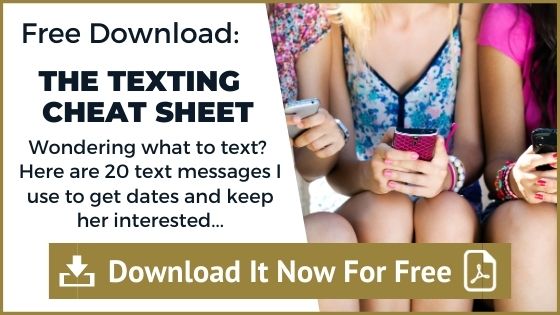 You may have already tried it with no success, but don't stop just yet, because my friend, Max, has some hacks to getting hot dates on Tinder.
In this post, Max, breaks down 10 ways to stand out from all the other guys on Tinder.
1. The Cooking Photo
On a given night, cook up a delicious meal and get a friend to capture a photo of you in action or holding the pan with your cooking apron on. The food needs to look extremely attractive! Importantly, the kitchen must look clean and modern. If you don't have access to a nice kitchen, take a one-off cooking class.
You would be amazed how many girls will ask about your cooking skills. You can then offer to invite them over for a home-cooked meal. Don't forget to include some wine!
2. Banish Selfies
As much as us men love to see a woman's sexy bathroom selfie, this does not go both ways. Data crunching on popular dating sites has proven that men who take selfies consistently underperform. Women prefer to see that you have friends willing to take the photos for you. They also cringe at how silly you must have felt when you took a selfie with all those people around…
The fact that you are shirtless needs to be a necessity for an activity you are taking part in. For instance, you are at the beach, on a boat or at the pool. Make sure you look natural and like you are having fun. Of course, pick a photo where your body looks its ultimate best!
3. Adventure in an Exotic Location
Women love a man who travels. It implies that he is adventurous and interesting. The trick here is to avoid the clichés like posing next to the Eifel Tower. A woman will be far more impressed if it appears like, during your stay, you managed to integrate with the locals. So, for example, take photos wearing some local fashion, at a trendy spot overlooking the city, with residents or alone—but the key is looking as if you belong.
4. The Non-Douchy Shirtless Photo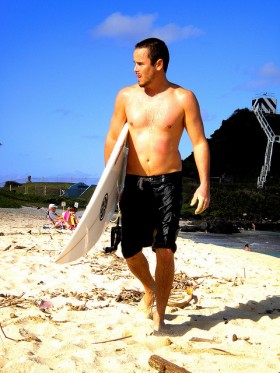 Here's the key: you need to have a damn good reason to be shirtless, otherwise you'll come off as douchy. At the gym, in your room, in your living room, on your patio … put your shirt back on—you're not impressing anyone. Women will rightfully consider such men to be douchebags.
5. Connect your Instagram
Tinder only enables you to add six photos. However, you can include your Instagram account in your bio. If you have a lot of cool photos, this is a great way to get a woman infatuated with you quickly. Women are worried about meeting a weirdo or a creep, so use Instagram to convince her that you have a fun life that she wants to learn about.
6. Don't Message as Soon as She Matches You
The girl ventures on Tinder after a few days of absence. Usually, she will quickly get matches and guys will immediately start bombarding her with messages. She will usually end up ignoring most of them.
When you get the match notification, relax and message her later. This way, you will not be competing with so many other men. Also, she will label you as busy and less eager than her other contenders.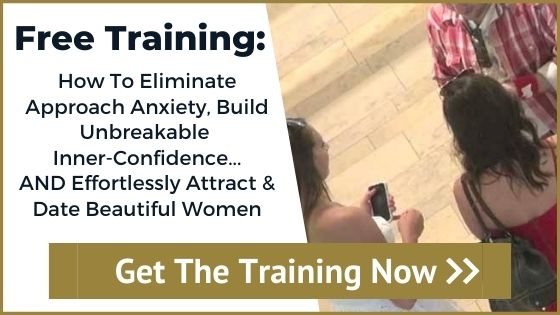 7. Open with Something Light and Unassuming
My personal favorite is to send a nice happy smiley. All she has to do is smile back. If she is too busy to respond at that particular moment, you can open with something else later without looking needy. Most guys will try too hard and send a detailed message or a question. You just want to casually get her attention, not seduce her right away.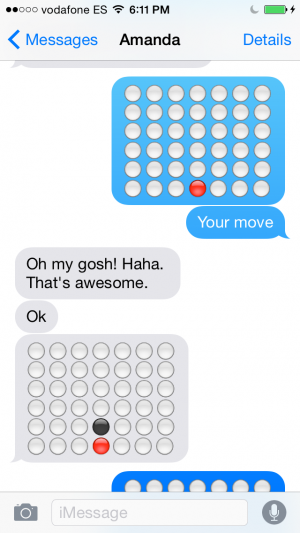 An interesting example I have come across is to start a game of connect four. This way, if the girl engages, you have her hooked. If she ignores or doesn't catch on, you can always recover with a different opener.
8. Ask for Her Facebook
Conversations on Tinder are as fleeting as it gets. Most women will forget about you once other matches start piling up. Also, many women will try Tinder out for a weekend and then delete the app. You are best to get her Facebook as fast as possible.
Make some light but entertaining banter for 7-15 exchanges and then ask for her Facebook name. Once she has accepted your friend request, you can start building some deeper rapport.
9. Know When to End the Conversation
Most guys will let a conversation fizzle out instead of ending it properly. When you would like to postpone the interaction, bring the conversation to a peak and then say you have to run to the gym or some other value-enhancing activity. That way she will be eager to speak to you next time around. If you are slick, add in "let's speak later, maybe in person :D".
10. Do Not Rush the Date
If you want to stand out on Tinder and maximize your chances of the woman accepting the date, you need to ease into the idea gradually. Most men will suggest meeting within the first few messages on Tinder. You know better. First, you add her on Facebook and venture superficial banter to deeper rapport. Next, you should hint at the idea of a date, as if it were a possibility you were exploring. If she seems hesitant, go back to building comfort. If she reacts enthusiastically, then plan out something casual and fun.
As in regular seduction, avoid coming off as needy. Have her demonstrate her qualities and bring you around to the idea of suggesting a meeting up.
Want to know exactly how to message her and get the date? Grab Max's book, Tinder Expert, here.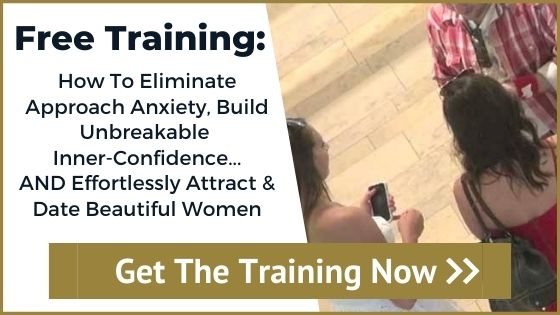 Max specializes in helping guys get dates through Tinder. "Tinder is a sales process. Most guys fail to get the women they deserve because they don't convey their best self."
His book is all about mastering self promotion through Tinder so that you can get more dates.