Ever wondered how to make her kiss you on the date? Or maybe you're already in a relationship BUT haven't even kissed yet? Well this is the video for you.
Matt shows 5 different ways to make a girl want to kiss you. If you've had trouble getting her to kiss you, these ways might just be what you need to get things started:
Like and Subscribe! Weekly videos on honest dating advice are coming out and you shouldn't miss them.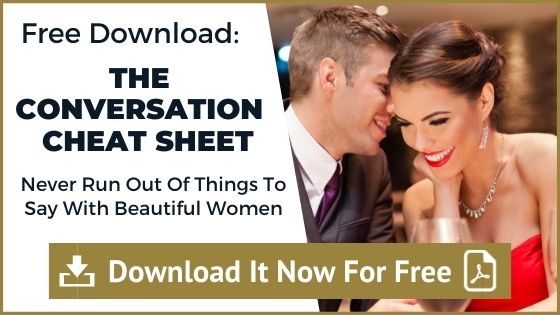 Get that FREE Conversation Cheat Sheet, man. You'll discover how to keep the conversation going, and you'll learn how to not run out of things to say!
The first kiss is often one of the many "make or break" situations in a relationship. Oftentimes guys (especially first timers) hate thinking about it because they WILL freeze in fear. Why? The fear of rejection clouds their judgment. Will I mess it up? Am I going to do it wrong? Am I going too fast? Or slow?
What should have been a natural flow will become rigid, monotonous, and flat. A kiss should be a romantic, exciting, even fun experience for BOTH of you. That's why these 5 ways should be used with CONFIDENCE and GROUNDEDNESS. If not, it will NEVER work, man!
It's no debate that kissing is a must know for guys. But you don't learn that in school. Experience is the best teacher – so why not experience how to date and attract women with us?
We can help train you. So CLICK HERE now to apply for our training and boot camps!
https://media.theattractiveman.com/file/w_700,h_265,c_fit,q_80/blog-images-8-2.png
265
700
Matt Artisan
https://media.theattractiveman.com/file/logo-light-e.png
Matt Artisan
2019-12-18 05:10:13
2020-01-06 05:11:33
How to make Her Kiss YOU | 5 Ways