We get asked a lot of dating questions. One that has been coming up recently is…
"Is it possible to get women to approach you first?"
Well, it's time I show you how to make that happen…
In this video, I'm going to show you how YOU can make WOMEN approach you:
Click Below To Subscribe To Our Youtube Channel
–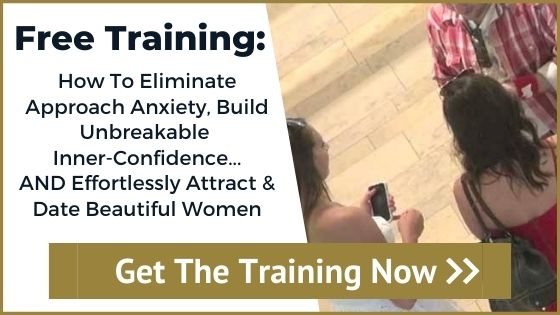 How to Get Women to Approach You
#6. Become Popular
This is probably the best way to get approached, but I put this at #6 because it can take a lot of work.
Obviously, celebs get approached a lot but you don't have to become a famous actor or pop singer, you just need to become popular in your city. This is still going to take work but the payoff is fantastic.
The obvious way to do this is to start a popular business, like a restaurant or open up a club. It's great if you can use yourself, your name, face or both, as the brand. My buddy Ike did this, his restaurant is called Ike's Place and the logo is his face, and every time I hang out with him, he gets approached by beautiful girls that recognize him.
If starting a business doesn't sound appealing, you can become popular on social media. Start a YT prank channel, or give advice about something, or live a really interesting life and blog about it.
Example how I get approached by guys and how I'm sure Matthew Hussey get's approached by a lot of girls.
#5 Throw Events
If this still seems too hard you can just Build up your social circle
Throw parties. If your parties are awesome then the word will get out, especially if you are in a small town.
If you don't want to throw parties, just
Hang out with girls
* Social circle – going to club with big group of girls. Girls might not approach you directly, but they might approach one of the girls you are with because they like her dress or something and then you can easily start talking to her. Or the girls in your group can be your wing girls and you can send them off to go meet girls for you. Which brings me to number 4….
#4. Get others to bring you girls
Now I know this isn't the same as getting girls to approach you, but it can work really well, it's easy to do and you don't have to approach her first.
When you have a social circle, make sure everyone knows you are single and knows the type of girls that you like. Girls love to hook up their friends. You can even look on your friends social media and tell you female friend, hey who's that girl in that pic you just posted? She's cute. And tell her to introduce you.
Get bouncers to bring you girls, just tip them.
#3. Props
Dog/Puppy – Chicks love dogs!
Smoking – I don't recommend this one but it can work. Girls will approach you for a cigarette if you smoke. I definitely don't recommend picking up the habit just to meet girls, that's a huge cop out. But if you are a smoker, or just a social smoker then you might get girls approaching you to bum a sig. Now if you aren't a smoker, when you go to the clubs just have a lighter in your pocket, because sometimes a girl will just ask for a lighter.
Bring a camera into the bar.
#2: Having a Skill:
The classic one is Magic, but you have to be careful with this if you go to a bar with a bunch of tricks to show off to everyone it may seem tryhard. But, if you are showing a trick to a friend, and a beautiful girl happens to see it, that would probably work better.
My personal favorite is Singing at a karaoke bar, I'm not even a great singer, but all you have to do is master one song. And when you nail it, chances are people will start cheering for you which creates a lot of social proof and the fact that you had the balls to sing shows confidence. Women will probably compliment you afterward.
Riding a Mechanical Bull (Sounds hard but is actually very impressive)
This could even be public speaking at an event, if you gave an amazing inspiring speech then people will approach you afterward.
#1. Interesting Fashion
It's number 1 because it is the easiest.
The idea of peacocking, but don't look like an idiot!
Even wearing a nice well-tailored suit can get girls to approach.
Women that are attracted to you will approach and make a comment about your style.
If all that doesn't work you could just point and signal her to come over, then say, "if I can make you come with just one finger imagine what I could do with my entire body"
That's actually a bad line.
===========
Now, don't rely on these things to solve your problems with women. They aren't going just magically to fall into your lap. If you want a lot of options then you need to approach them.
Remember, as I said before, you are a man and you go after what you want in life. So don't rely only on these tips to get women to approach you, man up and go talk to the girls you see in your everyday life that you want to talk to.
So to help you out a created a free confidence cheat sheet:
Download the Conversation Cheat Sheet for more on what to say to her!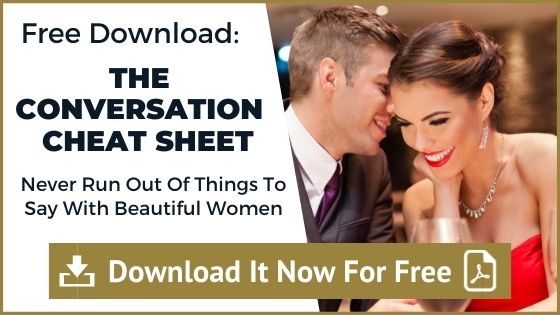 You get:
Our top conversation starters for any situation…

Simple techniques to never run out of things to say…

A list of our favorite games to play that create a fun-flirty vibe

Simple ways to escalate the interaction.

And more
Download it now because you'll want to keep this handy before you go out.
Let us personally show you how to meet women: see our live Bootcamp Schedule here.
I'm out! Cheers!
https://media.theattractiveman.com/file/w_845,h_321,c_fit,q_80/42-s.png
321
845
Matt Artisan
https://media.theattractiveman.com/file/logo-light-e.png
Matt Artisan
2018-08-04 23:58:13
2019-11-14 14:48:44
Get Women to Approach You