Flirting with a girl is not always easy. But it shouldn't be. If mastered correctly, flirting can be one of the most natural things to do in the world, here are Matt's 5 best playful flirting techniques women can't resist:
5 BEST PLAYFUL FLIRTING TECHNIQUES THAT WOMEN CAN'T RESIST
Getting a girl to know that you're interested in her and get her attracted to you as well is not always easy. But it shouldn't be. If mastered correctly, flirting can be one of the most natural things to do in the world, it's even more effective when it comes naturally.
But most of the time, a lot of guys get overwhelmed with the thought of having to flirt with a girl that they find attractive.
They end up making the whole interaction stiff and awkward, which is probably the most debilitating thing to get as a response to your flirting efforts. Well, not any more gentlemen.
I'm going to be sharing with you some playful and effective flirting tips that will get you that "Yes" when you ask her out, or her number, nine times out of ten.
Let's learn how to flirt with these flirting techniques!
WANT OUR COACHING? WE HELP MEN TRANSFORM INTO THE BEST VERSION OF THEMSELVES TO ATTRACT THEIR DREAM WOMAN.
CLICK HERE TO BOOK A CALL WITH US!
NON VERBAL FLIRTING
Before we get into how to flirt with your words, you need to first understand how you can use your body language to flirt. Non-verbal cues are some of the most effective tools in this flirting game and women have been using them for ages.
So, the next time you're trying to turn on the charm for a woman, don't forget to keep eye contact, initiate light contact on her arm or her shoulder, or wherever else you can find an excuse to touch her.
And it's so easy to do, look her in the eye when you're talking to her for two to three minutes at a time, then subtly look away, lean into her when you deliver a joke, and gently place your hand on her shoulder or her legs while you both are laughing or better still, find a joke that will require you to touch her.
Make sure to check out her body language as well, if she's encouraging your flirting, she'll send you signals to tell you to keep it up. You'll also know when you need to slow it down a bit from her body language.
MAKE HER LAUGH
Now let's move on to the big ones. One of the major flirting techniques that's playful enough to come out naturally, but effective enough to get her into you after that interaction is making her laugh.
Even if you're only talking to her for a few minutes at a time when you make her laugh, she subconsciously has it in her mind that she is always having a good time with you.
And before you pull out the knock, knock jokes for this one, let me just tell you it doesn't work like that. You may not even need to deliver punch-lines to get her to laugh, it can be as easy as answering a question with a witty or sarcastic comment, sharing some of your more interesting – or pretty crazy – experiences, sharing a funny scene in a show or a movie that you've been seeing, or even drawing her attention to something funny that can be happening around the two of you.
You can even actually pull out the knock, knock jokes if the situation supports it and she seems to be into that sort of humor. And this works so well – that when you eventually ask her out on a date, or even for her number, she's happy to respond positively because she trusts that she'll have a good time in your company.
But if you're getting in your head, worrying about what you can say that will get you a giggle or a chuckle, chances are all you're going to get is a simple awkward smile. Don't let that bother you, you don't need to be Kevin Hart to get a girl laughing.
All you need to do is relax and practice how to deliver your jokes naturally. The more practice you get, the more successful you can be with your flirting. (Talk about improv comedy)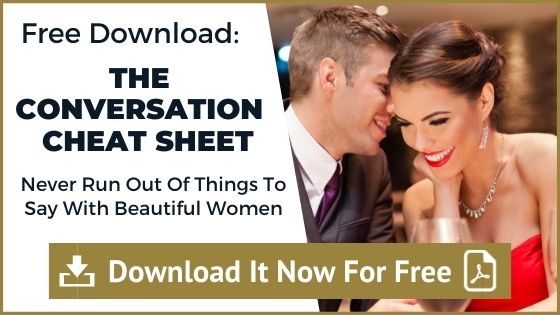 QUALIFY – DISQUALIFY
The next tip on playful flirting techniques that I'm sharing with you is one that may seem counter-productive, but give it a shot, guys because it works, and that is to disqualify her.
For example, you're having a conversation with this girl; you're flirting with her, and you ask her something like "What sort of music do you like?" and whatever reply she give you're going to say something like, "Really? Oh that's a shame. Means this thing between us cannot work." in a tone that's light and joking of course.
She'll most probably laugh and roll her eyes at you or give a retort back, but the deed has already been done.
What you've done is you've triggered something within her that makes her start to feel the need to prove that you both are compatible.
She's going to start to negate the disqualification and put herself back in the running. Now she's going to be more interested and invested in the interaction and seeing it advance to the next level.
And don't think this doesn't work with every girl, because it does. Every girl has that subconscious need to prove herself, and this need is going to work to your advantage.
BREAK THE BARRIER
Next on our list of playful flirting techniques is one particular trick that escalates the interaction ever so slightly, and that is to get closer to her. It's established that the bubble of air 18 inches around someone's body is their intimate space; a no-go zone when they first meet someone.
What you want to do, is step into that space for a moment and then step out and then watch their reaction. You can do that by allowing someone to pass by, when you're walking side by side, or to grab an appetizer from a wandering tray at a party, then step back out again, then pay attention to their reaction.
If this person is interested in you, they will respond by stepping in closer after you've backed off. But if not, they'll probably lean away from you while you try to step into their bubble, to keep that space intact. And of course, if she responds positively and she's into you then you can step even closer and initiate closer contact with her that will escalate the interaction into something more meaningful.
This is what you want to achieve with your flirting in the first place.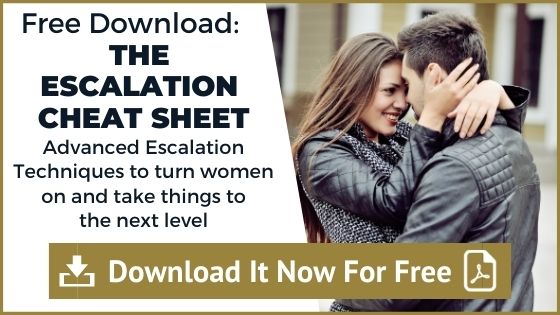 GENUINE COMPLIMENTS
The next playful flirting tip on our list works wonders; compliment her.
You don't even need to think too hard to find her a super meaningful compliment, just something that shows that you're paying attention to her, you find her attractive, or you find her interesting.
You can say something along the lines of, "I like talking to you," or "That dress looks really great on you," or "You're really pretty when you smile like that." It will make her smile, probably even make her day, and she might even reciprocate the compliment.
You don't even need to compliment her directly; you can just be people watching and suddenly turn to her with something along the lines of, "Do you notice how people have been looking at you passing by?" and then follow it up with a comment about how attractive she is.
Girls love being complimented. Scratch that, everyone loves a compliment, no matter how tough they're trying to make themselves appear, everyone appreciates a compliment. And you can just continue the conversation like nothing ever happened to leave her with a confused grin on her face.
FLIRTING TECHNIQUES: GO OUT THERE AND DO IT!
Now you want to make sure you practice with these tips on different occasions so that you can get more natural and smooth with it.
Realize that your flirting may not work a hundred percent of the time, but the better at it you get, the more successful with it you become.
And if you don't get a positive response, it's okay, there will be other opportunities to try. Don't freak out and lose your cool, it's not the end of the world.
Trust me on these tips, they've been working for ages and they're not going to stop working now. So don't over-think it, try it on the next girl you meet and watch her fall for you almost immediately – well sort of just kidding, these are just flirting tips and flirting techniques. The next time you get a "Yes" on a date with a girl you like, make sure to come back and leave a comment telling me all about how it went.
WANT OUR COACHING? WE HELP MEN TRANSFORM INTO THE BEST VERSION OF THEMSELVES TO ATTRACT THEIR DREAM WOMAN.
CLICK HERE TO BOOK A CALL WITH US!
https://media.theattractiveman.com/file/logo-light-e.png
0
0
Matt Artisan
https://media.theattractiveman.com/file/logo-light-e.png
Matt Artisan
2022-09-06 21:33:17
2022-09-06 21:33:20
5 BEST Playful Flirting Techniques Women Can't Resist