We've released our latest video with updates on how to touch a woman. We've put down the 5 MUST KNOW RULES the guys have to remember whenever they're going out and approaching.
Like and Subscribe! We have more videos on how to touch a woman coming out and we don't want you to miss it!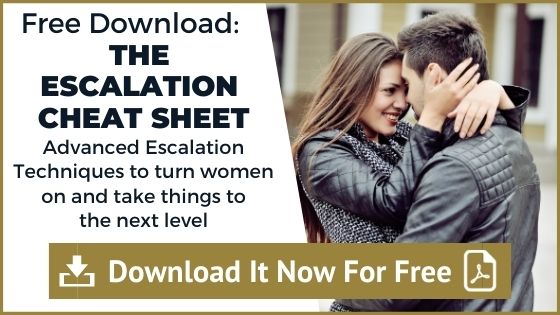 Get the FREE Escalation Cheat Sheet to know how to take things to the next level!
How to Touch a Woman
5 MUST KNOW Rules
#5. ALWAYS MAKE SURE SHE IS COMFORTABLE
Never do anything she's not comfortable with. If she doesn't seem comfortable then stop right away. Take a step back if need be. But don't be too afraid either. Now there is definitely a time for a gentle touch but there's also a time to use stronger touch. (Never be aggressive though!)
Some girls are more touchy than others (girl in london story who didn't want to touch at all)
#4. DON'T WAIT TOO LONG
Break the touch barrier sooner than later. If you wait too long, then that first touch will seem awkward and weird. So make sure to touch her when you first meet.
For example: During the day or at a bar usually, a handshake, and/or a kiss on the cheek might be appropriate. On a date, you would give her a hug when you greet her.
#3. HAVE A REASON TO TOUCH HER
Plug the video on 10 Ways to Touch Her
Dinner is a bad idea because it is harder to touch her.
#2. DON'T LET IT LINGER:
(story of student in Vegas putting is arm around the girl and then leaving it there and then she pushed it off)

Make sure to take it away at first. Touching releases the bonding hormone Oxytocin, and that's why it feels good. But if you let it linger, that feel-good vibe will soon turn into a creepy one.
#1. MAKE IT NATURAL
Remember that if you keep putting on the gas, then she will put on the brakes.
It should be natural, it should be normal and no big deal and it should be in context to what is happening in the interaction. For example, don't reach across the table to touch her shoulder out of nowhere (talk about why dinner is a bad idea because there's no touching which can make the date feel too platonic).
Practice by touching everyone, even guys.
Want us to train you? CLICK HERE to apply for our mentorship program!

Stay tuned for our next post and video!
Cheers!
https://media.theattractiveman.com/file/w_700,h_265,c_fit,q_80/blog-images-2-6.png
265
700
Matt Artisan
https://media.theattractiveman.com/file/logo-light-e.png
Matt Artisan
2020-01-10 02:08:06
2020-01-28 23:10:50
How to Touch a Woman | 5 Rules