Want to know how to get a girl to like you? Use this #1 Mindset… It's life-changing!
How come guys can get girls to like them even when they're goofy or just aren't paying attention? It's not just their looks, and definitely not their money. (Some guys are flat out broke and STILL get girls to want them!)
It's ACTUALLY all about MINDSET. In today's Wing Girl Wisdom, Jackie will tell you the NUMBER ONE MINDSET when it comes to attracting women:
Click Below To Subscribe To Our Youtube Channel 
–
Claim your free Confidence Cheat Sheet!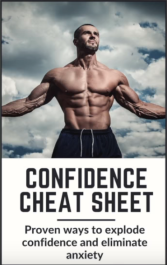 HOW TO GET GIRLS TO LIKE YOU
The #1 Mindset to Make Girls Want You:
Get rid of the awkward pickup lines and weird one-liners and utilize this mindset -> YOU are the king.
Stop thinking that you're not good enough and that women don't like you, because that's not true. Women do like you, they just don't like the insecure, sad, depressed version of yourself. Those high-quality women that you want, are not looking for someone who is swiping right on every chick's picture on Tinder.
They don't want a guy who tries to cater to every girl that bats an eye at him at a bar. They want to know that the guy that approaches them has an exciting life, with or without her in it, who ultimately chooses her to enrich his life, not complete it.
Hung out with this guy I met through mutual friends one summer. I spent a lot of time with this guy, but ironically enough, I never actually got to know him. The problem was that he would constantly agree with everything I said to the point where it was just not genuine. One time when we were listening to music, I brought up a song which had a very minimal number of plays on Spotify so it would be a large coincidence if he had heard it also, but lo and behold, he said: "I love that song." I asked him what other songs he knew of the artist and he claimed didn't know any other ones. Interestingly enough, after he started seeing one of my friends a few months later, and she said she felt the same way about him.
The problem here is that the guy was insecure, ashamed, and lacked any sense of masculine identity. He didn't embody the mindset and as a result, tried to conform to my opinions on topics instead of just letting his personality naturally attract those who are right for him.
So guys, stop trying to become a replica of the guy you think women want and start being 100% you. Start seeing yourself as a king and watch how you filter out all the people you don't click with and find the ones who you do. Now I know this is easier said than done, but don't worry I'm going to show you guys exactly how to do this!
Before we get started, make sure you guys hit that subscribe button so you never miss out on new advice. Alright, let's get started!
Practical ways to embody the mindset
"STOP caring about what other people think about you."
A king isn't going to worry about the opinions of the people around him. A king is powerful and is going to do what is right for him and his people no matter what.
So understand who YOU are as a person and be confident in that, because at the end of the day, no matter who you are, no matter what you do, and no matter what you look like – some people are just not going to like you! Accept rejection as part of life and stop wasting your time on people who don't matter, because once you do, the people who do matter will naturally get attracted to you.
Think about some of the most popular, well-liked celebrities. A lot of them say and do some of the most outlandish things, but at the end of the day, it is their willingness to own their character that makes us feel drawn to their presence.
My favorite example of this is Chris Pratt. It's obvious that he's one of the most charismatic celebrities on this planet; however, it doesn't have to do with his good looks or the amount of wealth he has. It has to do with his ability to completely be himself no matter what circumstances are. Watch any of his interviews and you'll quickly realize that he isn't afraid to act silly or make fun of himself on camera. He completely owns this about himself and that's what makes everyone want to be around him.
"Know the kind women you want in your life."
Think back to the mindset. A king is not going to surround himself with females who are clearly not a match for him, he doesn't even have time for that. Instead, he has a clear cut idea of the type queen he wants in his palace. Use this analogy in your own life so you can be cognizant of the types of females you want to be affiliated with. This will help you find high-quality women, as opposed to a random mix of people you couldn't care less about.
Make a list, either in your head or on your computer, of the characteristics you want the women around you to have. This isn't about being picky, it's about setting a framework for the type of people you want to have in your life.
This may lead you to realize that certain girls aren't right for you and that's okay. Don't mold into the person they want you to be. Instead, let them know that it was nice to meet them and move on. See yourself as the prize and move on with your day to find someone who does meet those standards. Wouldn't you want someone to like you for being completely yourself instead of the contrived, phony impression of the guy you think women want?
"Find your PURPOSE and pursue it!"
Think about your main goal in life, and don't answer "women" or finding a "relationship"! Constantly placing people above yourself is going to weaken your character severely.  Instead, focus on yourself. Be a king and rule your kingdom. Do some soul searching, find your purpose, and pursue that!
It's scientifically proven that having a purpose is attractive. This is because they are naturally drawn to passionate people since they radiate a positive, ambitious, powerful energy that we also want to have. Using this information, a study was conducted that compared yearbook photos with certain positive or negative characteristics traits. The authors found that pictures paired with positive traits were rated as more attractive, and those paired with negative traits were rated as less attractive.
So whatever your passion may be, maybe you're an aspiring musician or an ambitious entrepreneur, go out there and do it. Find an open mic you can perform at or find a mentor to help accelerate your business because actually getting out there and doing this activity with other people is going to help you make progress as opposed to staying stagnant at home. This is also going to eat up more of your time and force you to say no to her more often. That's okay. This will prove to her than you are serious about whatever you are pursuing and that will make her even more attracted to you.
At the end of the day, a man with a drive to succeed is way more attractive than a pretty face with good pick up lines. So go out there and do it!
Recap: YOU ARE THE KING!
Stop caring about what people think – a king does what he wants

List the qualities of the people you want to surround yourself with – a king hangs out with royalty

Find your purpose and pursue it – a king rules his kingdom
Make sure you get the Confidence Cheat Sheet!
Claim your free Confidence Cheat Sheet!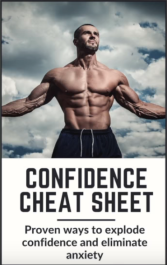 https://media.theattractiveman.com/file/w_700,h_265,c_fit,q_80/blog-images-1-1.png
265
700
Jackie
https://media.theattractiveman.com/file/logo-light-e.png
Jackie
2018-08-08 00:16:19
2019-11-14 14:45:46
How to Get a Girl to Like You with This Mindset