Wanna discover yet again how to be attractive to women? Do you know why bringing home a girl you just met is called getting lucky? It's called that because most guys don't know what they did differently to bring "this" girl home.
When I first got started on this journey, I remember it was like walking on an Indiana Jones wobbly bridge. Sometimes I would go home alone, frustrated that I spent all that time out with nothing to show for it. Other times, I was having some of the best adventures of my life that made those hours out all worth it.
Even with these amazing nights, there was still a problem.
I didn't know what I was doing differently with girls I left with compared to the girls that went nowhere. And I didn't know how to be attractive to women in a way that delivered consistent results.
Finally, after some reading and research, I figured it out.
I figured out one of the key "techniques" you need to use to help you consistently cross that bridge from a stranger to a lover.
If you've been studying the game or going through some of our courses, you know that there are 5 fundamentals of closing.
The overarching theme of these techniques, by the way, is that you're proactive about the pull.
Most guys get lucky because they talk and talk and talk and then at the end of the night ask the girl, "Want to go to my place?"
Instead, what made my results more consistent was being proactive about bringing a girl home from the moment I started the interaction.
Now, there are a lot of elements that go into getting a girl attracted to you, comfortable with you and then seducing her, but what I want to talk about today is one technique that is very powerful when it comes to proactively bringing a girl home.
Planting The Seed That She Is Going Home With You
The technique I want to talk about today is "Seeding the pull."
If you don't know, it's like the movie Inception; plant the idea in the girls head that you two will be hanging out later.
It's like when a friend says to you, "After the bar let's go hang out at my house."
When you agree, you now have the idea that after the bar you're heading to your friend's place.
We want to have the girl in that position. The way to do this is planting the seed early. I like to do this while getting the logistics.
For example, if I want to know if a girl lives near me, I'll ask where she's from. If she lives near me, I'll plant the idea that we're hanging out later.
My favorite one is, "Let's go grab food after this."
When I meet a girl, I'm quick to ask where she's from and plant the idea, "Let's get food later." All this happens within the first 5 minutes. This line works well during the day after an instant date for coffee or trying to bring a girl home from the club.
If you want to know how to be attractive to women in a way that provides consistent results, it's also crucial that you keep reminding her of that seed you planted. Water it, so it grows.
Once I plant the seed of getting food later, I'll keep bringing up the topic of food. "What's your favorite food? Where do you normally go out to eat? My favorite place to go to after this is XYZ. I'm looking forward to going to XYZ after this."
The reason I like to use grabbing food is that usually, it's a bit tougher to build comfort in a nightclub than if you two were sitting down somewhere. If you've been following us or studying the game, you'll know a girl needs attraction and comfort before seduction, and the game is mainly played in comfort.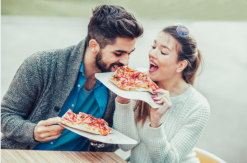 Also, I don't know about you, but after a night out I'm usually hungry and so is the girl, so I find "grabbing food" is an easier win than trying to go straight to your place. Remember, you want to baby step her to your place meaning you visit a few places along the journey of where you first meet to your place.
Some other ideas are, let's go grab a drink at XYZ place (like a lounge or bar with little distractions), after party at my place, come see my pet, I got to show you that funny video I mentioned earlier, or any other idea you can come up with.
Repeating makes the idea more real. I'm exaggerating but if she said yes 100 times to grabbing a pizza later, when you finally say, "Let's go grab a pizza," she can't say no. Oh, and the reason I normally go for pizza is that it's one of those foods that almost everyone likes and you can get it by the slices, so it's quick, easy and doesn't get the girl full to the point where she's passing out.
Planting the seed also makes that transition of moving from one place to the next so much smoother.
If I'm out and want to bring a girl back, it's so much easier when I plant the seed than what I used to do. What I used to do was not say anything at all about us hanging out later today until the very end.
Only when she was about to leave did I ask, "Do you want to come over?" It's too random, out of the blue, and you didn't get a chance to build it up.
When you made it clear that you guys are grabbing food after this and she agreed, then saying, "Let's grab food" and leading the way is the logical next step. She is going to go with you.
Here's a simple structure you can use to plant a seed successfully:
Imagine where you are a girl and where you want to be is a bridge. Use what's on the other side to plant the seed. And that seed will grow into your bridge to get across.
Say I'm at a coffee shop with a girl, and I know I want to bring her to a quick place to grab food near me. I'll plant the idea that, "Hey, I want to take you to one of my favorite restaurants real quick after our coffee."
I wouldn't wait to say this until she's about to leave. I'd say this while we're waiting for our coffee. And I would say it as early as possible, so I can build up the idea that, "You are going to love this place. They have the coolest…."
Make her want to cross that bridge with you.
When it's time to go, there's a smooth transition. You don't have to be Harry Houdini and pull a trick out of your sleeves trying to convince the girl to go to the next place. You already agreed to that 20 minutes ago.
Your Weekend Mission (If you choose to accept)
Beginners: Reflect on your last 3 approaches. Did you plant any seeds to extend the interaction?
Make at least 5 approaches with the goal of getting an instant date. Try planting the seed to go from the instant date to the next spot.
If you don't get the instant date, plant the seed for meeting up in the future (good way to transition into getting her number). "Since you can't grab coffee/drink now, what day are you free?…Alright, let's grab a coffee then. What's your number so I can text you?"
Advanced: Reflect on your last 3 approaches. Did you plant any seeds to extend the interaction?
Make at least 10 approaches with the goal of getting an instant date. Try planting the seed to go from the instant date to the next spot. If you don't get the instant date, plant the seed for meeting up in the future (good way to transition into getting her number).
If you do night game, make 5 approaches and try to isolate a girl by baby stepping her to another part of the bar (to grab drinks, get fresh air, hit the dance floor, explore another part of the venue, etc.) Try and "baby step" her back to your place.
Alright, guys, there's the tip of the week!
Be sure to go out there and start implementing it RIGHT AWAY. Success loves the speed of implementation.
If you like tips like these, then I would highly recommend you check out The Language of Attraction or attend a BOOTCAMP.
Don't know what The Language of Attraction is?
This is all about the conversation. You'll know how to attract beautiful women anyplace, anytime, and in any situation.
This is the only program that uses your own unique personality to attract women.
Other "gurus" will try to mold you to be exactly like them…. They'll have you dress like them and act like them even if that's not who you really are.
We'll show you what naturally attracts women. Click Here For More Details
Interested in a BOOTCAMP?
We're going to be in Las Vegas, Cancun, New York City, Los Angeles, Miami, Brazil, Argentina, Colombia, Spain, Germany, Sweden, Bulgaria, Cyprus, Thailand, Dubai, India, Australia and that's us just getting started.
If you're serious about getting results with women FAST, then this is your ticket.
Here are a few things we'll cover:
Discover a POWERFUL way to approach, attract, number close, and

get dates during the day

!

Destroy your approach anxiety

and

spark instant attraction

with your body language as you get women to CHASE YOU!

Get Tons of infield practice, real-life drills, role-playing, and instant feedback on your interactions to

make approaching women completely second nature!
https://media.theattractiveman.com/file/w_845,h_321,c_fit,q_80/blog-images-44.png
321
845
Miguel
https://media.theattractiveman.com/file/logo-light-e.png
Miguel
2018-01-25 13:49:46
2019-11-13 09:52:54
How To Plant The Idea In Her Mind That She's Going Home With You