A student just asked me, "How do I kiss a girl I just met?"
Here is what I told him… How to kiss a girl quick, in a way that she enjoys and makes her feel comfortable: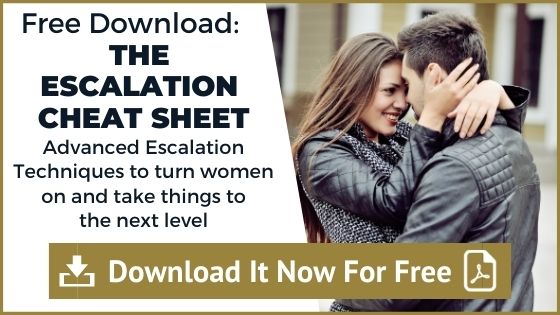 Note: Not all women will let you kiss them quickly and you may not want to if you are seeking a relationship. However, if you create so much romantic tension, it will be hard for her to resist. You can also use this at any time.
If you want to kiss a girl as soon as possible, it's really just all about creating Romantic Attraction from the start. Here is how you do that…
1. Express your confidence (frame control)
What turns women on? Confidence. When you walk up to her, let her feel your power, your masculinity, and your sensuality.
Let her know you see her as a beautiful desirable women… not by telling her, but with your eyes. This is what we call "The Look of Desire". This is much better explained in video or in person and if you have taken our advanced training, you have probably heard us talking about this.
Basically,  communicate with your eyes that you want her.  Have a slight smile that says, "You don't even know how much pleasure I can give you."  It is almost as if you hiding a dirty secret from her.  Do this one thing and it will get women to vibe romantically with you.
2. Make Her feel comfortable
Make her feel comfortable in your conversation and in the way you touch her.
See, what most guys don't realize is that some women WANT you to physically escalate and they want to be kissed quickly. They just want you to do it in a way that is comfortable for them.
Think about it, if she's not comfortable holding hands with you then she's not going to be comfortable kissing you.
So you need to gradually increase the touching in a way that makes her feel comfortable and safe. For example, touch her arm lightly as you tease her, then grab her hands and comment on her rings, whisper into her ear and get really close so she feels your breathe. Then when you feel her heating up, do what feels natural. If she stops you, no worries, just be cool and start escalating again in a few minutes.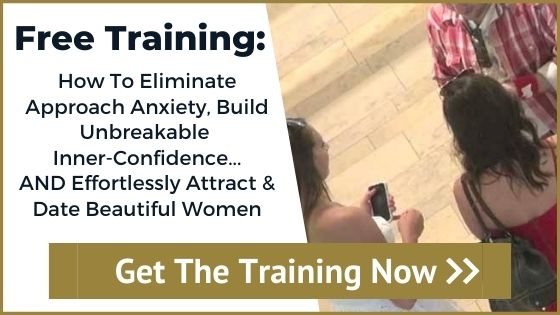 An indirect way to start touching is to start tickling her. Say, "I bet you're ticklish." Then tickle the side of her stomach or if you are sitting next to her, squeeze her thigh in a slow playful way. Make sure she always feels comfortable and never do anything she's not comfortable with. Veer on the side of safety at all times and don't try to push the limits, especially if she doesn't want it.
3. Make Your Move Stud
Women like a guy that takes action and makes moves on her. It makes them feel wanted and desired.
If you have set the romantic frame from the beginning and made her comfortable, then she will most likely be open to a kiss. Here are some steps to make your move
1. Stare at her lips, slowly and then back at her eyes. This will make her think of kissing you.
2. Once there is romantic tension, say, "If you keep staring at me like that, I am going to have to kiss you."
3. If she stays in that romantic vibe, then go for it. She may turn away because it is "too soon." No worries, she will be so turned on by the fact that you did go for it.
Let's do another example of how to kiss a girl quickly, shall we?
Start off by making eye contact with a girl in a bar. Open with, "you can't just look at me like that without at least saying 'Hi'." This sets the frame that SHE is chasing YOU.
Then say "ok, since you like to stare we're going to have a staring contest right now". (a fun game).
Then, as you are staring at her, keep moving your head towards her as if you are going to kiss her. At this point, you will either kiss her or she'll move her head and lose the contest.
This shows her you have balls to kiss her, warms her up for a kiss and sets the frame that she owes you something.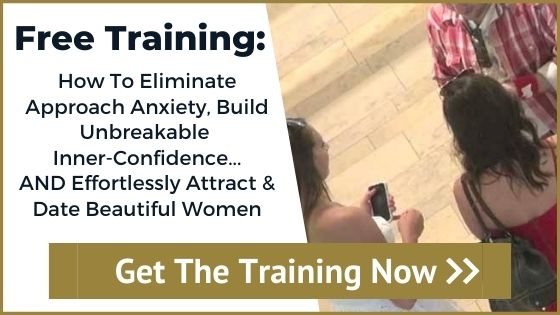 Have some small talk (ie qualify her and comfort questions) for about a 2 minutes and then start flirting with her. Then say the line in number 2 and enjoy.

Let me know how this works for you.
https://media.theattractiveman.com/file/w_283,h_424,c_fit,q_80/productpage4.jpg
424
283
Matt Artisan
https://media.theattractiveman.com/file/logo-light-e.png
Matt Artisan
2013-07-11 03:14:09
2020-01-14 14:01:35
How To Kiss A Girl Quickly